GE plans to split into three separate public companies over the next two years as part of its bid to unlock value

The breakout represents a good buying opportunity now that the company has improved its balance sheet and simplified its structure

Majority of Wall Street analysts bullish on GE's outlook
It's hard to make a bullish case for General Electric (NYSE:) as the 130-year-old industrial conglomerate remains in the midst of a deep restructuring process after falling dramatically over the past decade.
CEO Larry Culp took over the company in 2018 to save the sinking ship that GE had become after many years of financial mismanagement.
His already difficult mission has become even more difficult this year. On top of all the internal issues, GE is grappling with supply chain disruptions and COVID-related restrictions in China.
To combat these difficulties, the Boston conglomerate plans to create three public companies over the next two years, encompassing its healthcare, aviation and energy businesses.
GE's healthcare business will be the first to separate in January 2023. It will be followed by its renewable energy, fossil energy and digital units, which will merge into a single energy-focused entity in 2024. The third company will include GE Aviation, the company's jet engine division.
Culp, who is approaching his fourth anniversary as CEO, has overhauled manufacturing practices, sold divisions, paid off debt and made remote GE divisions responsible for covering their costs.
As the company approaches its first major step in the turnaround process, there are signs that Culp and his team are succeeding in their attempt to breathe some life into GE.
Momentum in the aviation sector
In its latest report, GE easily exceeded Wall Street expectations after announcing a surprise positive cash flow, fueled by the jet engine division, where sales jumped 27%. That helped push the parent company's earnings to $0.78 per share, versus analysts' average estimate of $0.37.
Shares of the Boston-based group have outperformed the benchmark over the past two months, with many analysts recommending buying the stock to take advantage of the company's breakup.
The resurgence of the company's aerospace business and progress in its turnaround are the two main factors keeping analysts bullish on the industry name despite the challenging macro environment.
In an Investing.com survey of 23 analysts, 70% have a buy rating on the stock, with their 12-month consensus price target implying 27.3% upside potential.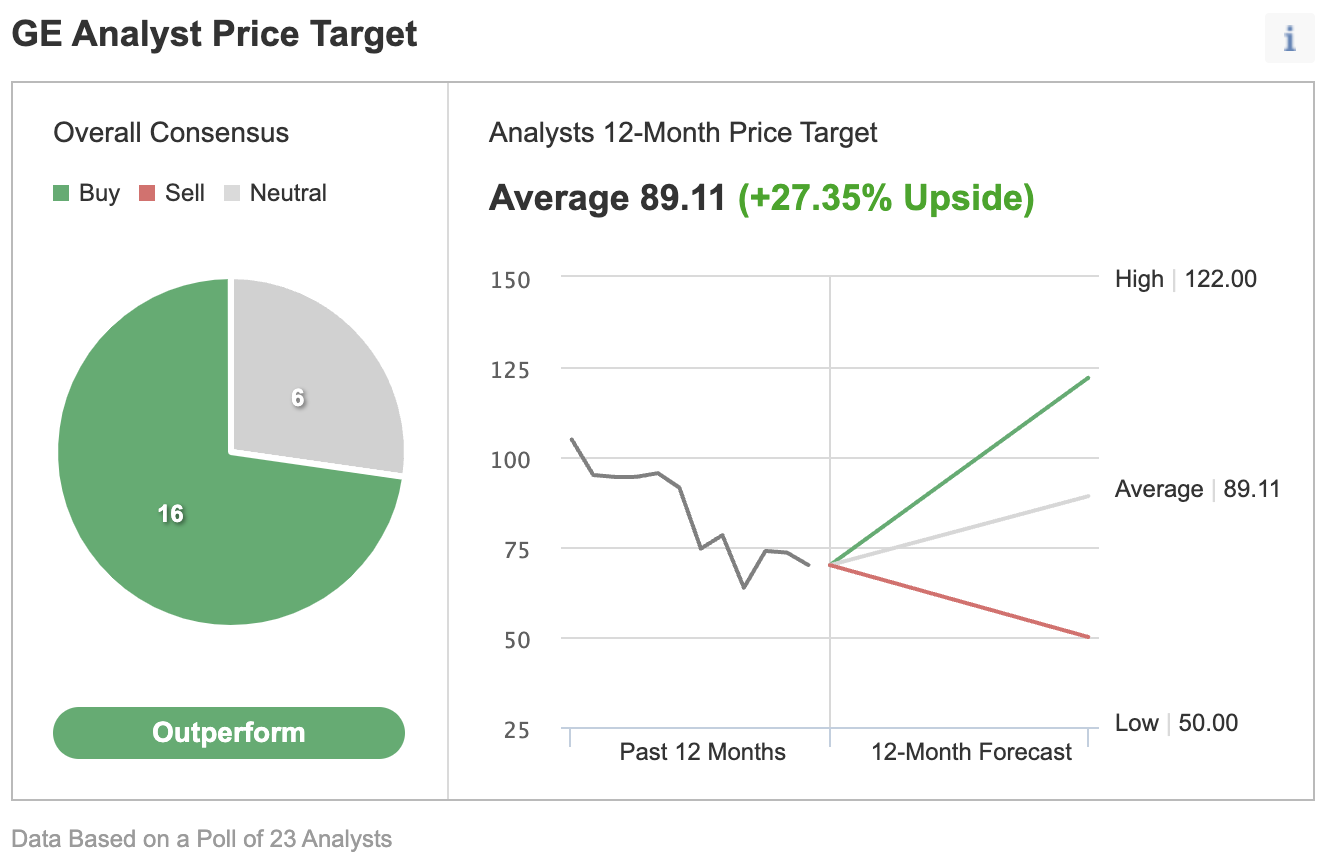 Source: Investing.com
Goldman Sachs praised the company's management in its recent memo, saying GE's healthcare and aviation divisions are gaining momentum:
"We remain long as we believe GE has attractive longer cycle exposure and believe the valuation does not reflect GE's progress in becoming a fundamentally strong company."
New catalyst
Wolfe also reiterated that GE is outperforming in a recent note, saying the wind generation tax credit in President Biden's Cut Inflation Act should act as a catalyst for GE stock. GE Renewable Energy's business has been under pressure this year as some onshore wind customers in the United States, where GE is the largest supplier, suspended orders after a large US tax credit expired.
Wolfe's note adds:
"That's why the restoration of the production tax credit in the Inflation Reduction Act, with project visibility over the next 10 years, is such an important catalyst for the recovery."
Value investor Mason Hawkins, who owned 3.28 million GE shares at the end of the second quarter, said that the market is not giving GE credit for the hardware improvements that CEO Larry Culp has made during his tenure.
"The balance sheet is stronger today than it has been in a very long time, and each of the three major business segments each have strong paths to increase earnings, regardless of the economic environment."
Hawkins added that:
"Health has never been a cyclical activity. Although aviation generally has some economic sensitivity, the business is still benefiting from a strong COVID rebound which is expected to continue even in an uncertain environment. Electricity is a less cyclical business, and GE maintains a stable business serving approximately one-third of the world's electricity.
Conclusion
GE stock may not show much positive momentum in the near term as the macro environment turns hostile for industrial companies. But for long-term investors, GE's breakout represents a good buying opportunity now that the company has a plan in place to leverage its market-leading position, particularly in healthcare and technology. 'aviation.
In my opinion, for investors with a high risk appetite, building a position in GE stock with a three to five year horizon could prove to be a productive move.
Disclosure: The writer does not own any GE stock.